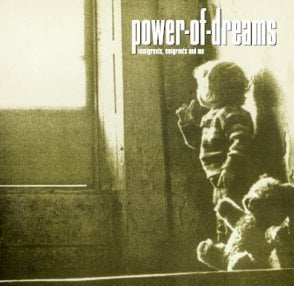 £

9.99
* "Jesus f***ing Christ. 20 years ? Christ that's depressing" - Ian O'Doherty - Irish Independant
* "Power Of Dreams were a genius band who should have been massive, Craig has it going on even now" - Alan McGee
* "Excellent news" - Gideon Coe - 6 Music
* "Jesus, 20 years!!! It is one of my favourite albums of all time!" - Tower Records
* "So thrilled to hear that brilliant album will be available again" - Irish Echo
* "Brilliant, I never got to see the band back in the day !" - RTE 2 - Dan Hegarty
Yes ! Immigrants, Emigrants and Me is 20 years old in 2010 and the original lineup of Power of Dreams have reformed for a tour with the album remastered, revised artwork and a whopping 20 track bonus CD !
The landmark debut album by Power of Dreams was released in 1990, receiving glowing reviews worldwide with Craig Walker garnering praise for a lyrical maturity beyond his 18 years and the band's spiky indie pop assault winning fans among press and public alike.
With a revised and expanded booklet - and a remastered bonus 20 track CD collecting every recording associated with the album - many on CD for the first time - the 20th Anniversary CD is a must for music fans and a triumph of a reissue.
CD 1 - Immigrants, Emigrants And Me
01 - The Jokes On Me
02 - Talk
03 - Does It Matter
04 - Much Too Much
05 - Had You Listened
06 - Stay
07 - Never Told You
08 - Bring You Down
09 - Never Been To Texas
10 - Where Is The Love
11 - Maire I Don't Love You
12 - 100 Ways To Kill A Love
13 - Mothers Eyes
14 - My Average Day
CD 2 - 20th Anniversary Bonus Release
01 - Don't Change
02 - Any Other Day
03 - A Little Piece Of God
04 - Mother's Eyes
05 - My Average Day
06 - Fine Time
07 - Love Her To Death
08 - The Way That I Am
09 - You Make Me Feel
10 - I'm With You
11 - A Little Piece Of God
12 - Cancer
13 - It's A Shame
14 - Hurt
15 - American Dream
16 - Not Enough
17 - Where Is The Love [Live]
18 - Never Told You [Live]
19 - Break On Through [Live]
20 - Cancer [Claustrophobia Mix]
OHPM 008